Minus One - An Electron Cartridge Slot Expansion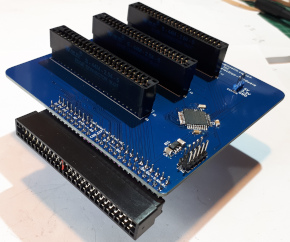 During my
Refurbishment & Upgrade
of an Acorn Electron I built a Minus One, a three cartridge slot expansion board. This board is a great substitute for the Plus 1 if all you need are cartridge slots, no Printer or analogue inputs. The details can be found on
GitHub
including the PCB Gerbers and the Hex file for programming the CPLD.
What I find particularly useful is the third Slot, with a Plus 1 I fill up the two cartridge slots with my basic requirements leaving no room for the really useful extra ROMs that would make the whole system super user friendly.
For example, I have set up an Electron with an E2P second processor, this uses one slot for the Disc Drive and E2P OS and the second slot for the E2P itself. This leaves no room for other ROM based software such as the View Word Processor or Hi Basic etc, up till now I have loaded images from disc but having the third slot makes all the difference. I no longer have to prepare a disc with images before using the system.
Similarly, the Electron with AMX Stop Press I can add View and for the Electron used for the Mega Games disc I can have the Disc Interface, the RAM cartridge, and the ADFS and RH Plus One ROMS.
As I had some spare boards left after the refurbishment I built another two Minus One's to replace the Plus One's used for the E2P and AMX..Photos below.
The Plus One removed from the E2P Electron will eventually be upgraded with the new AP6v2 to maximize the number of ROM's.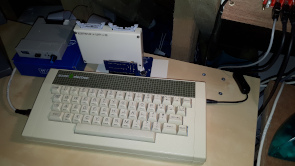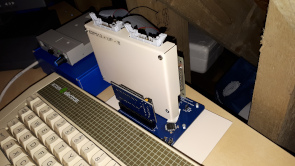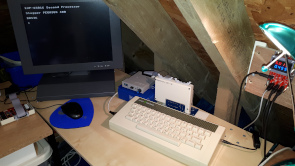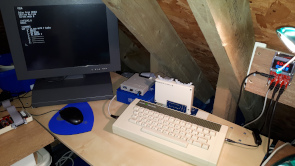 The Minus One used with the Disc Interface, E2P and Flash ROM Cartridge.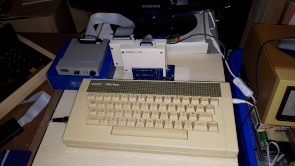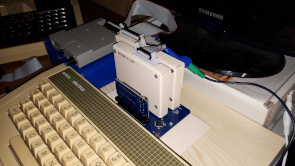 The Minus One used for AMX Stop Press.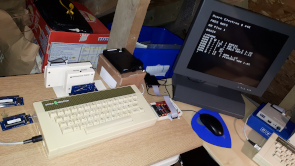 The Minus One used for a makeshift Mega Games cartridge.
Compatible Cartridges
There is a short list of tested cartridges on the
Project Website
and I can add a few more:
Slogger Pegasus 400 Disc Interface.
Acorn BBC Master ROM cartridge - as sold on ebay by pondu67.
Sideways ROM Cartridge with User Port.
Sideways RAM cartridge - based on the Elektor circuit from Feb.87
Electron Second Processor, E2P512, running at 2, 4, and 8MHz.
The Minus One designers 32K Flash cartridge but with the DIL version of the Flash memory.
Care Electronics ROM Cartridge.
PRES Advanced ROM Adaptor Mk11.
Acornsoft Starship Command.